Map Search:

Selection Search:

Category Filter:
Aquila Private Game Reserve Venue

Gay Friendly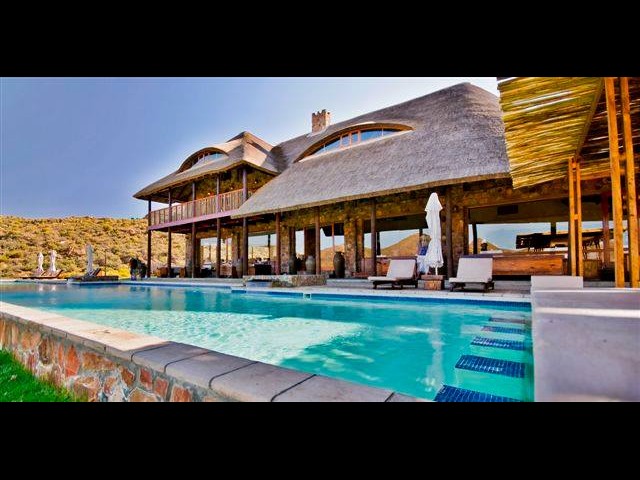 Aquila Safari Lodge is a 4 star establishment in the Southern Karoo. The reserve is a 10,000 hectare conservancy in the southern Karoo, and home to the big 5 legends of the wilderness - elephant, lion, buffalo, leopard and rhino.
Pricerange: From R 2000 to R 15000 Per Person
Group Packages Available
Tel: +27 (0) 21 430 7260
E-Mail: [email protected]
Website: www.aquilasafari.com
Aquila Game Reserve
Aquila Game Reserve has two large swimming pools, each with a pool bar overlooking the reserve. There are large dining areas, and cosy cigar bars and lounges. Aquila has a library, curio shop and children's entertainment area.
Aquila Game Reserve is the closest private game reserve to Cape Town, being a short drive from the city. Aquila is located in the historic Touws River town, in a valley between the Langeberg and the Outeniqua Mountains in the Karoo.
Karoo
The Karoo is on the national garden route. Setting the scene are spellbinding landscapes, carpets of wild flowers and wildlife. It is a place of wide spaces, immense horizons, craggy mountain ranges, jutting hills, an ancient seabed, and a massive clear sky at night.
Cape Town
Aquila Game Reserve is recognized as a major Cape Town tourist attraction. Aquila has been published in the "World's 21 favourite things to do in Cape Town," and considered one of the top 10 daytrip destinations by Sawubona Magazine.
Aquila offers a wide variety of safaris - day trip safaris, horseback safaris, quad bike safari, overnight and fly-in safaris. There are other activities on offer like 4 x 4 trails, fishing and themed weekend breakaways.
Aquila Private Game Reserve has gone to massive efforts and expense to source and re-introduce wildlife into the Cape region. A great emphasis is placed on a wildlife conservation educational experience. Aquila offers visitors a complimentary educational introduction to our cheetahs. Cheetahs are captive bred and strictly controlled in the interest of cheetah survival worldwide.
Social Responsibility
Aquila is the proud finalist of an Imvelo Award for our Social Involvement Programme. Aquila provides over 300 jobs to the previously disadvantaged community of Touws River. Aquila also sponsors the local cricket,soccer and rugby teams as well as a full time school teacher. Over the past 4 years, Aquila has invested a staggering amount into the Reserve and in doing so has been in a position to benefit the local community.
Important Information:
TRANSFER RATES: (Valid until 31 October 2016)
• Transfers Cape Town/Aquila/Cape Town.
• Transfers are offered with all programmes with the exception of the afternoon safari.
• Pickups and drop offs from all City Centre Hotels.
• Private Transport, extra cost of R2500.00 for vehicle only, same day return in addition to the per person rate.
Film & Stills shoots:
Aquila is perfectly positioned to accommodate and co-ordinate both film and stills shoots.
Email: [email protected]
Email: [email protected]
Our dynamic sales and marketing team will gladly assist you with all your functions, special events and conferencing needs
Aquila Game Reserve in Cape Town is a luxury four star establishment. Accommodation options at Aquila are premier, luxury or standard chalets.
There is a 300 pax restaurant and smaller outdoor boma restaurant. Both serve steamy buffet-style meals, cooked by world class culinary fundies. Extending from the restaurant is a cosy cigar bar and lounge. Aquila has a 35 meter salt water swimming pool, with a trendy pool bar. There is also a conference centre, children's entertainment area, library, and curio shop.
Facilities:


• Children's Facilities
• Swimming Pool
• 300 pax restaurant
• 65 pax outdoor boma restaurant
• Pool bar
• Library
• Conference centre
• Curio shop
Conference Facilities:

Additional Conference Facilities:
• TV & DVD
• Data Projector & Screen
• Flip Chart
Refund / Cancellation Policy:
TERMS & CONDITIONS & CANCELLATION POLICY
50% Single supplement on accommodation only
Family luxury 8 sleeper cottage minimum 4 adults plus 1 child 50% single supplement will apply
Family luxury 4 sleeper cottage minimum 2 adults plus 1 child 50% single supplement will apply
Rates excludes all beverages, telephone/facsimile, laundry, mini bar, optional excursions
All Children welcome, under age 4 no charge, 4-11 years 1/2 price and 12+ full rate
Check-out time at 10h00 on day of departure, check-in time from 14h00
Private Safaris can be arranged (Additional Cost)
Any optional extras are at an additional cost
Additional Quad Bike Safari R1095pp & Horseback Safari R895pp
Maximum weight restriction for quad bike & horseback safaris 95kg and no children under 16 allowed
Itinerary & Collection times are guidelines only and subject to change to allow for seasonality
All rates are quoted in ZAR (SA Rand) Vat inclusive and quoted per person
No Shows, 100% of full amount payable
Cancellations made within 24 hours of date of arrival, 100% of rate payable
Cancellations within 0 - 14 days of date of arrival, 100% of rate payable
Cancellations within 15 - 45 days of date of arrival, 50% of rate payable
Group Bookings: a non-refundable deposit may be requested and specially negotiated cancellation policy will apply to any bookings which exceeds 25% of our capacity (day trip and overnight)